Bike Across Bhutan
We are delighted that Live The Adventure features in an incredible 11-page spread in this month's Cyclist Magazine.  The full 11 page article is DOWNLOADABLE HERE NOW



Ant took two journalists from the magazine – the biggest cycling magazine in Europe – to Bhutan to be among the first Westerners to tackle the legendary mountain passes on a road bike.In this extraordinary article, journalists Peter Stuart and Rob Milton document their adventure and urge every reader to put it on their bucket list.
Says Peter: "It's certainly a complex place. Ancient temples set into the desolate mountainsides overlook neon cities that are expanding fast. Our ride from east to west is like an accelerated history of the nation, with much of the landscape differing very little from the descriptions of unchartered mountain wilderness that those early missionaries wandered through in the 17th century."
We took them to help promote the Tour of the Dragon, the toughest one-day bike race in the world which takes place in Bhutan in September every year. This year Live the Adventure is the official partner for the race with exclusive rights to promote the Tour of the Dragon outside of Bhutan.
Ant said: "It's a huge honour and we are delighted to work closely with the Royal family and the government in Bhutan to promote this most extraordinary race.
"The Tour of the Dragon isn't for the faint-hearted but we offer all manner of adventures to Bhutan for all levels of ability so take a look at what we do and get in touch if you're interested in the trip of a lifetime."
Cyclist was hugely grateful to Live The Adventure, not only for taking them out to this magical kingdom but because of Ant's unrivalled knowledge and expertise in navigating the country.
Peter continued: As I descend towards the capital, I feel a sense of elation from the scale of this journey through new lands and customs. It's no wonder that legends of a nearby paradise once spread infectiously through these mountains. Even against the savage winds and neverending climbs, the beauty of the region has kept me moving, desperate to see what lies over the next ridge."
Cyclist Magazine is out now and for more information ring us on 01746 718436. Download the full 11 page article here NOW

---
Live The Adventure have been pioneering cycling across Bhutan including taking the first UK rider to compete in the 268 km 'Tour Of The Dragon', labelled as the hardest 1 day mountain bike race in the world. In addition to this, we are the European marketing partners and sponsor the race with the Bhutan Olympic committee. More recently guiding 'Cyclist' Magazine across Bhutan. The same highly experienced guide will accompany this trip with extensive knowledge of Bhutan and this cycle route.
Our itinerary enables riders of all abilities to enjoy an amazing bike tour taking in the stunning scenery, hidden valleys, culture and high Himalayan passes that Bhutan has to offer. This is a bespoke tailored itinerary with experienced guides and full vehicle support throughout the 268 km route allowing participant's to choose exactly how much time is spent in the saddle each day.
We start in the Capital of Thimphu and then spend the following days cycling into the remote central Bhutan region crossing four main mountain passes and descending into four very different valleys each with their own varied backdrop and climate. The route takes us through remote villages allowing time to visit magnificent Monasteries and even an afternoon option to raft down one of the beautiful river valleys.
The route is best suited to cycle cross/gravel style bikes or hard tail mountain bikes and is fully accompanied with full vehicle support. You enjoy as much or as little riding each day with the support vehicles taking all of the kit and accompanying the route and riders to our evening hotels.
Whether you wish to bike over the 3000m+ passes or just enjoy one of the many long downhill sections this itinerary allows the full freedom to decide on a daily basis.
Live The Adventure took the first UK rider to compete in the Tour of the Dragon Bike Race in 2014 and are the official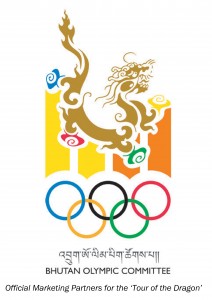 marketing partners of the Bhutan Olympic Committee and accredited by the Tourism Council of Bhutan, ensuring the best possible rider experience in this magical kingdom.
Day 1 – Arrive Paro and transfer to the capital Thimphu to prepare bikes and see some of the local sites.
Day 2 – After a quick view of Bhutan's largest Buddha we cycle across to Punakha. This route takes us over the Docha La pass at 3100m followed by a stunning 70km / 2000m descent into the Punakha valley.
Day 3 – A day spent in this beautiful valley allows us to bike from the hotel to the get on of the Mo Chu River, raft down the valley to our take out at the stunning Punakha Dzong and then have time to visit this fortress before cycling back to the hotel (alternative bike routes are an option for those that do not wish to raft).
Day 4 – We leave Punakha and follow the Dang Chu river valley as we steadily climb up to Pele La at 3400m. Dense forests, friendly villages, long valley and mountain views make this a very rewarding day in the saddle. Just before the top of the pass we take a turn to Phojika and a lovely long descent into this hidden rural valley famous for its black cranes and our hotel.
Day 5 – Either ride back up the Pele La or take a ride to the top then start the long day across to our final destination in Bumthang, central Bhutan. With the lack of traffic and narrowing single track road today's route starts with another long downhill section following another beautiful valley down to the fortress monastery at Trongsa (1800m) the route then climbs 29 km up over the Yutong La pass at 3400m with the rest of the day slowly dropping down over the Kiki La pass (2870m) into Bumthang (2610m). One of the best days riding in the world with high passes and long descents and you choose which sections do want to do!
Day 6 – We spend the day around Bumthang with a wonderful route through pine forests to the famous 'burning lakes' and mountain views.
Day 7 – An early 25 minute flight back to Paro in the morning. The afternoon then offers two choices to either cycle another local route or hike up to the famous Tiger's Nest monastery perched high on the cliffs above the valley. Overnight in Paro Hotel.
Day 8 – Spare day! On rare occasions due to weather the internal flights from Bumthang to Paro can change and this day allows us some flexibility with this possibility. If we caught the flight on the previous day this day will be spent with a day ride to the Haa valley, only recently opened up to tourism. Our last evening in Paro has the option to experience the traditional hot stone baths and relax those well used muscles.
Day 9 – Depart Paro.
Passport Information
Your passport must have at least six months valid duration at the time of travel. We will also need a copy of your passport for our files in the UK. We also advise you carry photo copies of your passport whilst travelling.
Visa Information
Your visa for entry into Bhutan will be arranged by 'Live the Adventure' Worldwide Travel.  We will send you a copy of the visa form for you to fill out and return to us and we will then arrange your visa for you. Dependant on your travel arrangements and your itinerary, you may be required to apply for an Indian visa if you are entering India at any time in transit. This can be done via the Indian embassy.
Medical Information
For all up-to-date medical information please visit: http://www.masta-travel-health.com.  This website will inform you which inoculations to you need for the countries you are travelling to, and all advice on medical kit you may want to take with you. Inoculations must be done at least 6 weeks prior to your trip departure.
Flight Information
Live the Adventure has a dedicated flight account manager at STA Travel who understands the intricacies of our travel itineraries. If you complete the form on our Check Flights page it will be sent to STA Travel and also to Live the Adventure. If you would prefer to talk through any details with Live the Adventure first i.e. before completing the STA Travel Flight Enquiry Form below, please call us on 01746 718 436. We are very happy to talk through and recommend arrival and departure scenarios to fit in with your choosen travel itineraries, as well as different flight options and stop overs before you confirm or book your international flights and help make your flight booking process as smooth and as hassle free as possible.
Once your flights are booked, we will also need a copy of all your flight information. Bhutan Entry Flight options: all entry into Bhutan is through Paro (PBH) airport. These flights are not included in the listed price and upon confirmation of your connecting international flights we will book these for you and in doing so arrange your entry visas into Bhutan. Current flight options fly in from Delhi, Bangkok, Kathmandu and Mumbai.
Insurance Information
We have worked with many companies that supply insurance for our trips. Should you need any assistance with this we can put you in contact with them. We advise that you take your insurance out straight away so that if anything was to happen from now to the trip departure date then you will be able to claim.  Your insurance must cover you for the whole of the trip and all the activities listed in your Trip Itinerary. We will need you to send us a full copy of your insurance policy before your trip departs.
27 January – 4 February 2016: $4100.00 USD per person (£2957.00 GBP as of 29.02.16)
Prices are quoted in US Dollars.  When paying for your holiday you will be charged in Pounds Sterling (GBP) based on the rate of exchange on the day of purchase.
The cost of this Bhutan Adventure Holiday expedition includes:
All visas and entry fees
Highly experienced UK and local guides
Full vehicle support and transportation in Bhuta
All hotel accommodation on a twin/double basis (single supplement available on request
All meals
Internal flights in the itinerary
The above costs do not include the following:
Additional beverages (alcoholic and soft drinks)
Gratuities
Optional hot stone bat
Bike hire (where required)
International flights
Bhutan Entry Flight options: all entry into Bhutan is through Paro (PBH) airport. These flights are not included in the listed price and upon confirmation of connecting flights we will book these for you and in doing so arrange your entry visas into Bhutan. Flight options into Bhutan are from Delhi/Kathmandu and Bangkok. Please contact us for flight prices.
Privately Guided Closed Trips: This trip can be privately guided for a minimum of 4 people with dates can be chosen to suit you.
Please contact us to check availability before completing this booking form. A 25% deposit is required with all bookings.  Once we have received your completed booking form and deposit you will receive a full set of joining instructions including kit list.
Bike Across Bhutan
Summary

27 January - 4 February 2016
$4100.00 USD per person for 2016 (£2957.00 GBP as of 29.02.2016)
9 days
Check Flights
Click here to check flight times and prices
Enquire
Fill in the form below or call 01746 718 436
*Required fields