Tour of the Dragon
Race Day 2016 Promo from Live The Adventure on Vimeo.
Renowned as the hardest one day mountain bike race in the world, this 268km journey crosses four high Himalayan passes each over 3000m in height starting at 2am in central Bhutan and finishing in the capital of Thimphu later that same day.
Live The Adventure took the first UK rider to compete in the Tour of the Dragon Bike Race in 2014 and are the official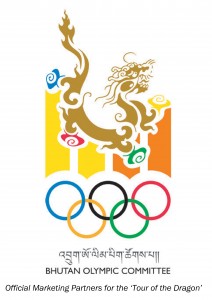 marketing partners of the Bhutan Olympic Committee and accredited by the Tourism Council of Bhutan, ensuring the best possible rider experience in this magical kingdom.
Our itinerary enables riders of all abilities to enjoy an amazing bike tour taking in the stunning scenery, hidden valleys, culture and high Himalayan passes that Bhutan has to offer. This is a bespoke tailored itinerary with a team of experienced guides and full vehicle support throughout the 268 km route allowing participant's to choose exactly how much time is spent in the saddle each day.
Whether you wish to just enjoy the 2000m down hills from the top of the high passes or get some serious training and acclimatise for the race itself, this nine day itinerary allows the full freedom to decide on a daily basis as we travel from the Capital, Thimphu, to central Bhutan, and the start line for the Tour of the Dragon Bike Race.
There are also 2 other alternatives to taking on the full race:1)  join the shorter 60km Dragon's Fury race, ascending the last pass before dropping down to the finish in the capital, or 2) enjoy the 9 day itinerary participating in as much or as little cycling as you choose and have the option to be a spectator at the early morning start and then fly internally back to Thimphu to see the riders cross the finish line.
Tour of the Dragon, Bhutan, Race Day 2014 from Live The Adventure on Vimeo.
Day 1 – Fly into Paro, Bhutan, and transfer to hotel where the rest of the day can be spent preparing the bikes and an option to take a ride in the secluded valley by our hotel.
Day 2 – Hike up to the famous Takstang Monastary before making our way to the capitol Thimphu (bike or vehicle options).
Day 3 – Drive / Bike over the Docha La pass with a 2000m descent down to the Punakha valley and back to our hotel.
Day 4 – Drive / Bike from Punakha to Phobjika, a stunning hidden valley area of Bhutan famous for its Black cranes.
Day 5 – Drive / Bike to Bumthang – the start location for the Tour Of The Dragon.
Day 6 – Rest Day and sightseeing in Bumthang with bike options for those that wish to ride this day. For race participants, the pre-race briefing will take place on this day.
Day 7 –  Race day! Options to take part in the Tour Of The Dragon Bike Race (268km). Overnight in Thimphu after race closing ceremony.
Day 8 – Recover day and sightseeing –overnight in Paro.
Day 9 – Depart Bhutan.
RACE DAY
The races starts in Bumthang, central Bhutan (2610m, 8560 ft). The riders follow the Bumthang chhu (river in Dzongkha) for a couple of kilometers and then climb 6km through blue pine forest to Kiki La at 2870m (9420 ft). From there it is down to Nangar. Through more blue pine forest and agricultural land you follow a gentle road through Chumey and up to Gaytsha (2950m, 9680ft).
The road then climbs 7km up through blue pine forest to Bong Bridge and then gets a little steeper for about 5km through mixed conifer and rhododendron forests and pastures till you reach Yotongla at 3430m (11250 ft). From Yotongla it is a 29 km downhill ride to Trongsa. The pass is dominated by fir and rhododendron forest, open pastures and rock outcrops. As you go down to Dorji Gonpa, which is almost halfway, firs give way to spruce and hemlock and mixed broad leaved forest dominated by birch and oaks and rhododendrons. Below Dorji Gonpa, the road passes though broad leaved forests and agricultural fields. There are some excellent viewpoints to see Trongsa, the Dzong and the extensive forests and agricultural fields beyond. Just before reaching Trongsa (2150m, 7050ft) you pass right below the Ta Dzong (a watchtower to guard the dzong from enemies).
From Trongsa the road descents gently for 7km to the Bjee Zam bridge at 1900m (6230 ft) and then climbs 6km through broad leaved forests to a view point from where the Trongsa Dzong seems just a stone throw away. The road continues climbing for another 10km along cliffs and through broad leaved forests and agricultural settlements. At Tshangkha it passes the headquarters of the Jigme Singye Wangchuk National Park. After reaching Tashiling, a few km further, most of the climbing is done. For the last 20km you will only climb some 150m (500 ft), but there are some ups and downs. As you near Chendebji, hemlock replaces broad leaved species on some of the ridges and in the valley. You pass Chendebji chorten and a little later will reach Chendebji village (2430m, 7970 ft).
The road climbs through mixed conifer forest past Nikachu bridge at Chazam and Rukubji to the small settlement of Longte. By this time much of the trees have been replaced by pastures and agricultural fields. Through these pastures dominated by dwarf bamboo you reach Pelela (3430m, 11250 ft). You then continue your long descent through fir, birch, rhododendron forest and many small waterfalls to Wangdue Phodrang. After passing the village of Nobding, 12km down, there is a single restaurant a further 12 km down and then a few shops at Teki Zampa another 15km further. Just past here a new Japanese bridge spans the Dang Chhu. After a long almost flat stretch you reach Wangdue Phodrang.
From Wangdue Phodrang, you continue to Metshina, at an altitude of 1410m (4625 ft). From Metshina, the distance to Dochula at 3150m (10,330 ft) is 38.3km and the race is all uphill with an average slope of 5%  and a few short sections of up to 10%. You will pass Thinleygang (11 km), Lumitsawa (15km), Lampiri (28km) and a memorial chorten for traffic accident victims (32km). Thinleygang is the only place recognizable as a village, having a couple of shops and a BHU (Basic Health Unit). Racing 1700m (5575 ft) uphill is as breathtaking as the views.
After Dochula, it is all downhill to Thimphu at 2330m (7640 ft) with a small climb only at the end to the clock tower at Thimphu city square.
Passport Information
Your passport must have at least six months valid duration at the time of travel. We will also need a copy of your passport for our files in the UK. We also advise you carry photo copies of your passport whilst travelling.
Visa Information
Your visa for entry into Bhutan will be arranged by 'Live the Adventure' Worldwide Travel.  We will send you a copy of the visa form for you to fill out and return to us and we will then arrange your visa for you. Dependant on your travel arrangements and your itinerary, you may be required to apply for an Indian visa if you are entering India at any time in transit. This can be done via the Indian embassy.
Medical Information
For all up-to-date medical information please visit: http://www.masta-travel-health.com.  This website will inform you which inoculations to you need for the countries you are travelling to, and all advice on medical kit you may want to take with you. Inoculations must be done at least 6 weeks prior to your trip departure.
Flight Information
Live the Adventure has a dedicated flight account manager at STA Travel who understands the intricacies of our travel itineraries. If you complete the form on our Check Flights page it will be sent to STA Travel and also to Live the Adventure. If you would prefer to talk through any details with Live the Adventure first i.e. before completing the STA Travel Flight Enquiry Form below, please call us on 01746 718 436. We are very happy to talk through and recommend arrival and departure scenarios to fit in with your choosen travel itineraries, as well as different flight options and stop overs before you confirm or book your international flights and help make your flight booking process as smooth and as hassle free as possible.
Once your flights are booked, we will also need a copy of all your flight information. Bhutan Entry Flight options: all entry into Bhutan is through Paro (PBH) airport. These flights are not included in the listed price and upon confirmation of your connecting international flights we will book these for you and in doing so arrange your entry visas into Bhutan. Current flight options fly in from Delhi, Bangkok, Kathmandu and Mumbai.
Insurance Information
We have worked with many companies that supply insurance for our trips. Should you need any assistance with this we can put you in contact with them. We advise that you take your insurance out straight away so that if anything was to happen from now to the trip departure date then you will be able to claim.  Your insurance must cover you for the whole of the trip and all the activities listed in your Trip Itinerary. We will need you to send us a full copy of your insurance policy before your trip departs.
Cycling Holiday and Tour of the Dragon Bike Race Costs:
28 August – 5 September 2016: $3900.00 USD per person for 2016 (£2811.00 GBP per person as of 29.02.16) this does not include your race bike. Bikes can be hired at $25.00 a day.
Prices are quoted in US Dollars.  When paying for your holiday you will be charged in Pounds Sterling (GBP) based on the rate of exchange on the day of purchase.
The Tour of the Dragon trip costs include:
All accommodation on twin/double occupancy basis and meals
Private land transport. FULL VEHICLE SUPPORT for race participants
Permits, fees and taxes for all itinerary destinations
Fully experienced and qualified cultural and activity guide
The above costs do not include the following:
International Flights
Costs for consumption of alcoholic beverages, sodas and bottled drinks which will have to be paid for individually
Hot stone bath option
Guide Gratuities
Personal insurance
Bikes are available to hire as part of this itinerary (specifications on request) or participants can choose to take their own (excess baggage allowance can be arranged)
Single room supplement charge of $400 per person
Please contact us to check availability before completing this booking form. A 25% deposit is required with all bookings.  Once we have received your completed booking form and deposit you will receive a full set of joining instructions including kit list.
Tour of the Dragon
Summary

28 August - 5 September 2016
$3900.00 per person for 2016 (£2811.00 GBP as of 29.02.16)
9 days
Check Flights
Click here to check flight times and prices
Enquire
Fill in the form below or call 01746 718 436
*Required fields