Our Experience
Ant Eddies-Davies is the founder of Live the Adventure and one of the most experienced people in the world at guiding and training - teaching everyone from the emergency service to international defence forces. Ant has forged lifelong relationships with communities across the world to ensure every trip we run is unrivalled.
When you book your trip with Live the Adventure you're not booking with a faceless organisation, or a call centre. You're dealing with the undisputed kings of adventure travel from day one.
From the friendly voice at the end of the phone to the guides and expedition leaders who man our incredible itineraries, each and every one of us has huge amounts of on-the-ground experience in the countries we travel to.
Knowing our territories inside-out is what enables us to offer adventure holidays that no other operator can match. Our relationships fostered over decades guarantee that your holiday with us is unsurpassed.
Our entire operation is led by Ant Eddies-Davies, the founder and backbone of Live The Adventure.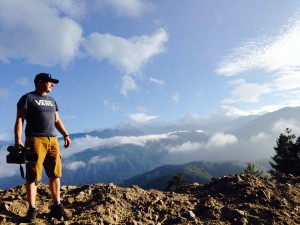 Ant is one of the leading figures in the world of adventure travel and it's his wealth of experience in this industry which helps set us apart from the also-rans.
Working with agencies and organisations all over the world, Ant is the go-to man when it comes to adventure training and travel.
A professional guide for over half of his lifetime on every continent and in some of the remotest regions on the planet, Ant has worked with governments, Olympic associations, television crews and emergency services as they all look to his expertise to drive their
own organisations forward.
Guiding you safely through the mountains and rivers is of paramount importance so it's fair to say you'll never be in safer hands.
Starting his career at the age of 18 as the youngest UK Senior Instructor in kayaking then going on to summit his first Himalayan peaks when he was 21, he has spent the last 25 years coaching everything from paddle sport to climbing, mountaineering to power boating, mountain biking to mountain boarding, right through to currently working as a rescue trainer to the UK emergency services. In fact he's pretty much tried his hand at everything, diving, paragliding, parachuting, wakeboarding…..the list goes on.
However, all of this emanates from Anthony's love of adventure, and it's this passion which he passes on to all our travellers.
Indeed, he passes that energy and enthusiasm onto the rest of the team, who are all at the cutting edge of the adventure travel industry.
In recent years Ant has specialised in directing international training courses and programmes around the world. This includes The Outdoor Instructor Academy in the UK, International guide training in Nepal and he is the sole licensed training provider for Rescue 3 International in Bhutan. He is currently employed as a training consultant to tourism boards and travel operators and advises on adventure tourism and travel with a wealth of knowledge and experience as an operator, guide and trainer.