The UK's Largest Show for Adventurous People Returns to the Capital in February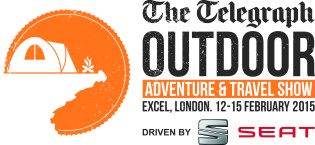 The UK's largest exhibition for adventurous people, The Telegraph Outdoor Adventure & Travel Show – Driven by SEAT, returns to ExCeL, London from 12 – 15 February. With a wide range of new attractions and the return of popular features, the Show promises a fantastic day out for outdoor enthusiasts and the whole family.
Live the Adventure are exhibiting at the Show - for a warm welcome please come and visit us on Stand OU 1015.  Anthony will also be presenting on the Careers in the Outdoors stage on 14 and 15 February.
If you would like a free ticket to the Trade day on Thursday please let us know by email and we will send you some more information [email protected]
Featuring six exciting zones the Show offers FREE have-a-go attractions, inspirational guest speakers, a range of information on everything 'outdoor, adventure and travel', as well as the latest gear & equipment at great prices.
So whether you're passionate about travelling, photography, climbing, watersports, exploring the British countryside or you're in the market for some new gear – you're sure to find everything you need and enjoy the Show.
Highlights
As part of the Climbing Village in association with Guide Dogs for the Blind, SuperBloc debuts at the Show featuring GB's best climbers and you could have a go too! The 28m long SuperBloc wall will see action on all four days. Thursday will see the Armed Forces Bouldering Champs taking place, and with 200 competitiors it promises to be a highly competitive event. On Saturday, the RAB SuperBloc Masters will entertain the crowds with 50 of the UK's best male & female climbers set to battle it out for a large cash prize! For visitors wanting to get on the wall themselves, Friday will see the DMM Masterclass Project taking place - with workshops from top climbers taking place all day with all proceeds going to the GB Climbing Team, whilst Sunday sees the Arch SuperBloc Open taking place. Open to climbers of every level - the competition promises to be lots of fun and climbers can register their interest in taking part on the website today.
The Climbing Villiage will also feature the DMM Ice Climbing Wall, Roktagon and Freedom Climber so there really will be something for everyone whichever day you attend!
Top speakers including Steve Backshall, Kenton Cool, Sam Branson, Monty Halls, The Brownlee Brothers & James Cracknell will be speaking at the event along with 50+ other adventurers, travel experts, photographers and special guests. With all talks free on entry, it's a fantastic opportunity to come and meet the UK's most adventurous stars and get inspiration for your next adventure! WhaleFest, an annual event in Brighton, is bringing the excitement of their festival to the Show in the WhaleFest London Pop Up. There will be life-sized replica orcas and an incredible indoor whale watching boat trip where you will discover just how smart these creatures really are. Visitors will be taught how to go whale watching responsibly and why these beautiful animals belong in our oceans,wild and free.
Designed to test your limits and challenge your strength, Dirty Dozen Races will be bringing some of their most gruelling obstacles (as well as some more accessible ones!) to create the UK's toughest indoor obstacle course to the Show. The Dirty Dozen Races Obstacle Course will include favourites such as monkey bars, huge walls and rope climbs. Experts will be on hand hosting daily masterclasses so you can perfect your technique and find out how to tackle the challenging course. From backpacking across South America to taking a luxury safari in Africa, hiking in the Alps to surfing the shores of Bali – every traveller has questions about their next journey! The National Geographic Traveller Clinic in association with Breeze House is where you can find all the answers, as a crew of experts will be on hand to help put your mind at ease before starting-out on that next big adventure. For all budding travel writers there will also be a number of travel writing seminars to help you improve your skills.
Browse the latest gear and take home some new gear! RAB, Fjallraven, Paramo and OEX are amongst the brands confirmed to be at the Show and their experts will be on hand to get you fitted with the latest clothing & equipment for your next adventure.
There's much more too!
Have you ever wondered what the mountains can offer out of the ski season? Discover the spirit of the mountains all year round in our Mountain Life area and pick up information, inspiration and advice from our exhibitors. It's not just snowy peaks and powder filled slopes but tropical rainforests, lush green landscapes and dormant volcanos.
After exploring all of our exciting new features at the 2015 Show, why not head to The Black Grouse Bar to relax with a beverage and a snack. You'll also have the chance to sample the smooth and smoky taste of Black Grouse whisky.
Get the infromation you need to plan that next adventure.
Be inspired by the stories from our brave and charismatic speakers talking on the Climb & Adventure Stage sponsored by Graubünden Tourism.
Destinations, tour operators and 'year out' companies from across the world come together in the Adventure Travel Zone - making the event a hotspot for globe-trotting adventurers. Pick up tips and advice for your next trip and discover hidden gems by listening to the travel experts on The Telegraph Travel Stage sponsored by Clipper Race The World. With so much to take in, it's worth mulling everything over in the Adventure Café, where informal talks, meet and greets, and book signings will all take place. You might even end up sharing a cup of tea with your favourite travel writer!
The Show is proud to support the Britain on Foot campaign again this year, which puts emphasis on encouraging more people to get active outdoors. Stroll through to the Britain on Foot zone and you'll find everything you need to make the most out of exploring the UK's countryside. Discover how to combine your passion for the outdoors with a job in the PGL Careers Hub, buy and sample local produce from the Farmers' Market and learn bushcraft skills, from twitching to natural navigation, in the Wild Britain area with our wilderness expert Bob Podesta.
Celebrate stunning photography, top UK photographers and the latest camera equipment at the Adventure Photography Festival. Some of the World's best photographers will be joining us in the Outdoor Photography PhotoBox sponsored by Fjӓllrӓven to share the tales behind their images, give insight into how to capture the perfect shot, how to get published and to show their amazing photographs. Looking for advice and information on the best photography courses and holidays?
Then the Outdoor Photography Departure Lounge is the place for you, where holiday and course providers are happy to chat through the options and find the perfect one for you.
1 Ticket 4 Shows
And that's not all! The Show will be held alongside The London Bike Show, the Triathlon Show: London and the London International Dive Show (Saturday & Sunday only) with one ticket allowing visitors access into all four shows. Offering not only great value for money, but the chance to explore new interests making it a jam packed day out suitable for the whole family.
For more information or to book a ticket, visit: www.telegraphoutdoorshow.co.uk
Opening Times
Thursday 12 February: 1pm – 8pm
Friday 13 February: 10am – 5pm
Saturday 14 February: 9am – 6pm
Sunday 15 February: 9am – 5pm