Stand Up Paddle Board (SUP) - Its addictive!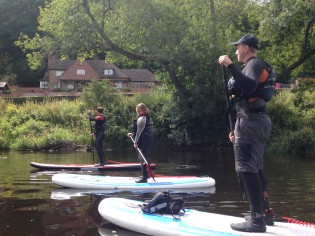 Its one of the fastest growing sports around the globe!
 Stand up paddle boarding (or SUP's)  takes the art of paddling and surfing to produce a unique sport, relaxing pastime or a great fitness experience.
It's not only a great way to relax and enjoy a journey but an awesome exercise and work out that develop great core control and stability.
The reason for such growing popularity is the fact that anyone can do it! Whether you are an avid adventure sport person or someone looking for a new exercise routine or gentle outdoor activity, it can be done by all at a level that suits you.
With equipment ranging from top brand carbon fibre core boards, through to inflatable ones that pack into the back of your car it truly is a sport to suit for all levels of ability and how much you have to spend!
We've been running SUP sessions for over 2 years and the most common misperception is the fact you need to be on the coast or somewhere tropical to do it!
We're changing that perception - It's great on rivers too!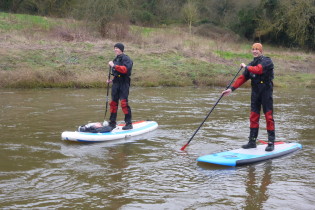 We have the longest river in the UK, the River Severn on our doorstep. This offers the perfect environment and an amazing backdrop to experience Stand Up Paddle boarding, with many options of locations and journey length. In addition to this, we have our own on site lake to learn the basic skills and try out the sport.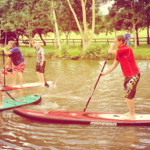 Throughout the spring and summer this year, Live the Adventure are running a large number of days to introduce beginners to the sport as well as guide the more adventurous on some journeys. We are hosting regular half day sessions on our lake to learn the basic skills and try a range of equipment, as well as running a number of half day guided river trips, or maybe combine the two to do a mornings training and then complete your first river journey in the afternoon.   For those a little more experienced or adventurous then, we have dates for half day and full day guided river trips along a variety of sections of the River Severn.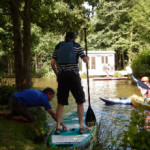 We supply all boards, paddles, wetsuits, buoyancy aids and a minibus ferry for the river journey to get you back to your car.
For full dates and details go to the website:
http://www.livetheadventure.co/training/courses/paddlesport/sup/
Come and join us this year and try the latest big adventure sport - but be warned - its addictive!