The challenge of world expeditions - its not all fun!
I guess it sounds all exciting and as many comment, an easy job!
The 10, 15, 30 days that encompass an expedition are actually the easist part - providing the homework and planning has been done - and that is the challenge, to plan and prepare for all eventualities ahead of them ever happening.
When I run guide training programs I often refer to the best qualities that in my opinion make a good guide or expedition leader. At the top of that list is the ability to be able to problem solve, not just before the the trip and whilst planning, but be prepared to problem solve throughout the trip when you are under pressure and have the clients safety as your responsibility.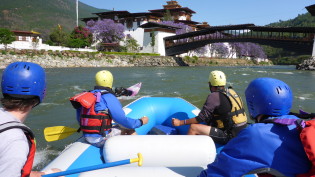 So how do you go about putting a trip such as this on? - Its in a Hidden Himlayan Kingdom with restricted access and toursim, doing an activity in locations that no one has tried before, with no equipment within the country, and for a group you have never met!
Thats the nuts and bolts of the real challenge of putting on an expedition - I call it the expedition logistics, and for me its the key part of any expedition, and a part that really challenges your managerial skills, communication skills and research and knowledge of the activity and location. Get this right and your are on route to a succesful expedition, get it wrong and results will be in the hand of the gods - not the best way to run a trip!
The location. I've been lucky to have spent 10 years working in the country, hours spent on the rivers and time spent training the guides. My good friends and collegues at Xplore Bhutan at the best in the country - I may appear biased as I have trained many of them, but I would not guide a trip without the best team possible around you, to support and assist. Bear in mind this team can be extensive: drivers, cooks, cultural staff, river guides, mangerial ground support etc. Surround yourself by the best, and base this not just on ability, but those you are happy to rely on and trust when those prolems arise! I have been very priviledged to have had the opportunity of operating and guiding in Bhutan, and the support to run trips throughout the country with the most knowledgeable of friends. If the location is new its anther matter - maps, GPS, even google earth,  have all been used to get as much information to paint  picture of what you are letting yourself in for  - and this can take a big chunk of time!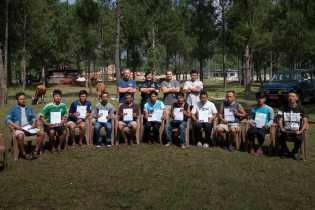 The first ever SUP trip - this is one of the main challenges, making the expedition achievable and realistic! I know the rivers - got that covered. I'm a SUP trainer and coach and have over 25 years kayak and raft guiding experience in the Himalayas. Having said that, choosing the locations and rivers to descend when you have not met the group - thats a challenge. All I can do is base this decision on previous guiding and expedition experience. In addition to this I deliberatly arrive 2 days before the group to asscess conditions, water levels and forecasts - Himalayan rivers change every season.
How to get the kit there? - this proved hard work as getting things into Bhutan is not easy. I've sent shipping containers via Calcutta in the past but each inflatable SUP packed up is like a large holdal and weighs about 18 kg, so 13 of these in a 40 ft container is a bit overkill and not cost effective. As with many things in this industry - who you know plays a key. An introduction to the JOBE rep in the UK and that ball was rolling. The right boards and paddles and knowledge of shipping from the manufactures appeared getting kit from Holland to Bhutan looked simple, and all planned in advance! 5 days before I left I got the phone call saying - we can't do it? Flying them in proved to be an issue with no direct flights, customs etc. Not taking them at this stage was not an option! A little pressure and lots of problem solving from all involved - and 3 days later, they get there before me. I would be lying if I said I only lost 1 nights sleep over this one!
The group - again not knowing them does mean one of the the biggest challenges is matching all of the above (locations, Kit, itinerary) to the group. Luckily one of the group runs a SUP school in Singapore and has done some  training sessions for the group, however that was the sea - not Himlayalan rivers. Solving this one is all about prior correspondence, meeting the team, easy warm up days, some hydrology lessons on the river bank, and lots of time spent looking at the river!
There are obvious 'what if?' questions to run though - first aid provision, communication, back up plans and safety and rescue. These come down to the guides kit, training, experience and the qualifications of the leader and his team to ensure all 'what ifs' are covered.
Easy Hey? There will be lots to solve out there - this is the Himalayas, where in 25 years not one itinerary has gone exactly to plan! But, having done the best preparation, this will limit the problems that may occur and need solving during the expedition itself.
Finally - the expedition planning is done and the expedition is about to happen. The final question -  Are you mentally and physically prepared to take total responsibility for the safety and welfare of these people? -  Thats what they expect of you and thats the final role and responsibility of an expedition leader as the adventure takes place.