Blog 10 - No time for practice – Race Starts in under 5 hours!
No time for practice – Race Starts in under 5 hours!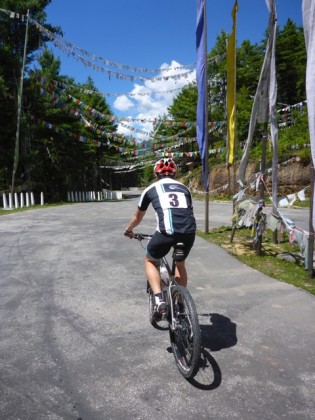 Wednesday James got first hand experience of the challenge ahead as we travelled in reverse to the starting venue Bumthang in central Bhutan. The previous day he experienced one of the long down hills from a pass, and today decided to cycle the full climb from around 2000m to the top of the Pele La pass area at 3390m as training for one of the 4 passes he'll have to do on race day. Long winding climbs to the top with 30+ C temperatures were a real test with broken tarmac roads and mud-covered routes. Having been in and out of the car filming I decided to pop the cameras on the bike and join James. Jumping on to mountain bike at 3000m to climb was a bad move and very hard work! Rewarded however by a long descent into an area that I had never previously visited and famous for its black cranes – a stunning hidden valley as the footage shows, although we did get a little mobbed by interested children and James nearly lost his bike (see video). However it ended well and a lovely reward for James with the best room and views in the hotel!
Today we headed over to Bumthang in central Bhutan and the starting point for the race on Saturday. It was another chance for James to bike some of the route and film as we headed onto single track roads (still Bhutan's national highway!) and again into another valley. On arrival it was off to the riders briefing at nearby hotel hosted by HRH Prince Jigyel Uygen Wanchuck with riders getting a full heads up on Saturdays race from the Prince himself who founded and has ridden the race! James sat and enjoyed tea and cakes in the hotel garden whilst I was privileged to be able to film the whole event as "Film/Press'!
Shortly afterwards all press were called to briefing with the Prince to discuss media coverage of the event. An American TV crew, a Japanese TV crew and a local Bhutan film crew, plus me from Europe! James and I attended, introduced our selves and I felt privileged to have had that time there.
The whole purpose of us being in Bhutan and me inviting James to compete in the race is to film and promote Bhutan as an adventure travel destination. One of my favorite destinations that we run trips to and a place that I've been lucky enough to have unlimited access to explore, train its guides and help pioneer new itineraries. This is a country actively looking to expand its sustainable adventure tourism in a controlled manner and this fits directly into what the prince and this race are trying to achieve.
One thing is obvious as we travelled to the starting venue; the atmosphere in Bhutan is so welcoming as the race approaches and it really is a big event here,
Schools along the 268km will be lining the villages and it is also marked on their calendar's as a national festival. The entry into the finish point in the capital on Saturday will be something else!
More later – keep following!
Ant

Pre Race Training - Tour Of The Dragon from Live The Adventure on Vimeo.